Home
Floor Plans
Photo Gallery
Pricing
Construction
Monroe County
Documents
About Us
Testimonials
Press Releases
Employment
Helpful Links
Local Links
Site Map

Contact Us

Owning a home, it's an essential part of the American dream. Since 1973 the Sweeting family has made that dream come true over 1,700 times in the Florida Keys. Sweetwater Homes has built more system-built homes in the Keys than any other company.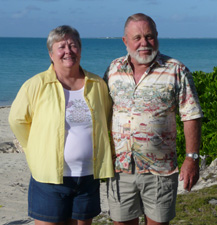 Joyce and Jack Sweeting



The Sweeting family first settled in the Florida Keys in 1866. These pioneers found a rough and untamed land that grew into a tropical paradise with each generation. Jack Sweeting was born and raised in Key West, Joyce Sweeting was raised in Marathon and they have continued to make the Lower Keys their home. Jack & Joyce's children were all born in the Keys.

In 1973, Jack Sweeting founded Sweetwater Homes as a company dedicated to providing stylish, strong, safe and affordable system-built homes. Over 40 years later, Sweetwater remains a family owned and operated business, managed by Jack Sweeting's children, Shane, Nolan and Francena, and remains committed to not just meeting but exceeding customer expectations.

The entire Sweeting family lives in Sweetwater-built homes and we would be proud to build your family's dream home. We are proud of the fact that no Sweetwater-built home in the Florida Keys has sustained major hurricane damage over the years.


#1 Builder Award and Individual
Achievement Awards
The Sweetwater Team in Wisconsin
to Receive #1 Builder Award


Contact Information
Sweetwater Homes, Inc.
30051 Pond Lane, Big Pine Key, FL 33043
Phone: 305-872-9520
Fax: 305-872-4791
Email: info@sweetwaterhomes-floridakeys.com