Home
Floor Plans
Photo Gallery
Pricing
Construction
Monroe County
Documents
About Us
Testimonials
Press Releases
Employment
Helpful Links
Local Links
Site Map

Contact Us

Don't substitute the quality of your home for price! Our prices may be higher than other area home builders, but we try to provide a turn-key home, including everything needed to meet or exceed the minimum required by county or city building code.

For information on floor plans, available options, or city and county fees required to develop your property, email us, call

(305) 872-9520

, or stop by the office on the corner of Key Deer Blvd. and Pond Lane, Big Pine Key.
Base Price Includes
8 ft. x 16" x 16" solid poured columns with four #6 reinforced steel rods
(includes 8 ft. auger holes)
Stainless steel anchor plates
Triple 2" x 10" Pressure treated rim joist
2" x 10" Pressure treated floor joists nailed 16" on center
¾" plywood sub-floor nailed 16" on center
2" x 6" @ 16" OC exterior wall construction with 5/8" plywood sheathing and vapor barrier on exterior walls
½" drywall finished and painted
2" x 4" interior walls 24" OC
R30 fiberglass insulation in roof
Roof truss system 2" x 6" with 5/8" plywood sheathing
3/12 pitch fixed roof with shingles
R19 fiberglass insulation in exterior walls
4 ft. wide landing and staircase of pressure treated wood
Finished drywall, carpentry, plumbing and electric
Pre-finished white fascia and soffit
180 mph wind loads per Monroe County and City Codes
Air Conditioner platform and decking
Carpeting and/or Vinyl tile
Vinyl siding
Kitchen and Bath cabinets
Laminate countertops in kitchen and bath
Faucets, bath accessories, and lighting fixture
Street tree and swales
Standard Energy Features
Fiberglass Insulation — 6" or R19 in the 2" x 6" Exterior Walls and 9" or R30 Ceiling Insulation
Fiberglass Entry Door
Vapor Barrier in Ceiling and Walls
Impact Doors and Windows Standard
Caulking at Windows and Doors to Reduce Air Infiltration
Polystyrene Air Baffles in Rafter Spaces to Provide Air Flow in Attic (Only 3-5/12 Roof Pitch)
Continuous Soffit and Ridge Vent Exceeds Code Requirements for Ventilation
Caulking at Wall to Floor, Wall-to-Wall and Wall-to-Ceiling Connections to Reduce Air Infiltration
Appliance Packaged Included
Energy Saver Water Heater
Water Saver Faucets, Shower Head and Water Closet
System-Built Home Construction
The main benefits of System-Building are:
The builder is better able to control costs for the homeowner.
Homes are completed faster.
Homes are built in a controlled environment minimizing
weather damage and theft at the job site.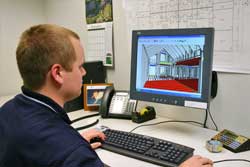 The building process begins by engineering the home on a 3D computer system. Our engineers analyze the home to make sure it is structurally sound. The 3D engineering system interfaces with our order management system to order all of the material needed to build the home.

A typical system-built home is comprised of two to four units. System-built homes are built following local building codes and use proven building techniques. The first step is to build components in our state of the art production facilities and assemble them into three dimensional units. We complete most of the exterior and interior of the units in our plants. On the exterior of the units we install the windows and most of the siding, shingles and other architectural details. On the inside of the units we install all of the wiring, plumbing, insulation and sheet rock. After drywalling is complete, we install plumbing fixtures, light fixtures, cabinets, counter tops, interior doors and trim.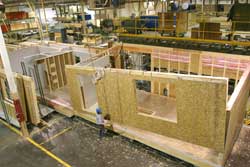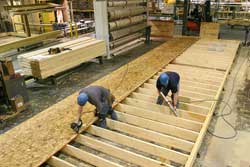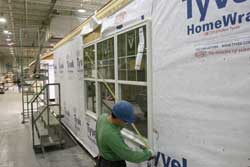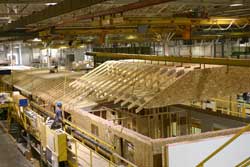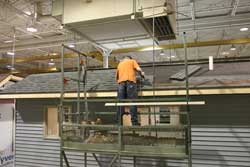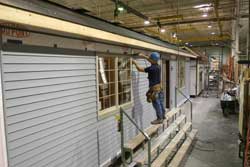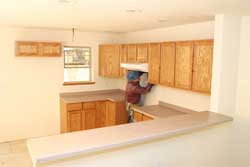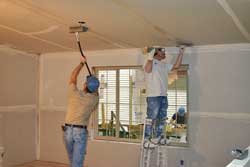 The units are loaded onto special trailers and delivered to the job site.

At the job site, the builder coordinates the placement of the units onto the foundation with a crane. After the units are in place, the builder seals up the roof. On the outside, the builder assembles the garage components and installs all of the siding, shingles and architectural treatments that were not installed at the plant. On the inside, the builder finishes off the connection between the units and coordinates installation of carpeting and other miscellaneous items.
System-Built Construction vs Mobile Home Construction
What is the difference between System-Built and Mobile Home Construction?
Mobile Home Construction refers to a building method where the home is built according to a national HUD code instead of the local building code. This code allows mobile homes to be built with different and often lesser quality standards than regular houses. The goal is to provide housing that is more affordable than regular housing. The main disadvantages of mobile homes are that they depreciate in value, they do not qualify for conventional mortgages and insurance costs are higher. The characteristic that is most unique to mobile homes is that the floor is a metal chassis with removable wheels that is used to transport the home to the job site.

The only similarities between the two methods of construction are that the homes are built as units and they are both built in factories.

Many mobile home companies also produce modular homes in the same factory. These modular homes built by mobile home companies are built according to local building codes but often contain the same lesser quality materials and are built with the same lesser quality standards as mobile homes.

The homes that Sweetwater Homes, Inc. builds meet or exceed all county and city building codes and guidelines.